---
---
RELIEVE YOUR PAIN SO YOU CAN RENEW YOUR LIFE
FITNESSAFE Compression Ankle Sleeve relieves and prevents ankle & foot pains in minutes!

Everyone knows how hard everyday tasks can be with ankle pains. The ankle is a sturdy joint, however, it is relatively easy to sprain, strain, and even break.
If you are aging, exercise regularly, or simply on your feet a lot, you are at risk to suffer from ankle pain.
If your ankles are left unprotected, working long hours on your feet with tile and concrete flooring makes your ankles swell, pains can develop and worsen due to wear and tear.
Whether you're on your feet all day, an athlete, or battling chronic pains, our compression ankle sleeves will help you feel your best.
They can be worn under a sock and with shoes. Wear it comfortably at work, in the gym, or anytime you want to access your ankle's full potential.
P.S: Does come in a pair.
ELIMINATE PAINS WITH ZERO EFFORT
Home remedies for ankle pains are often troublesome and ineffective. Doctors can be time-consuming and costly. While pain medications may work, it has many unwanted side effects such as nausea & drowsiness.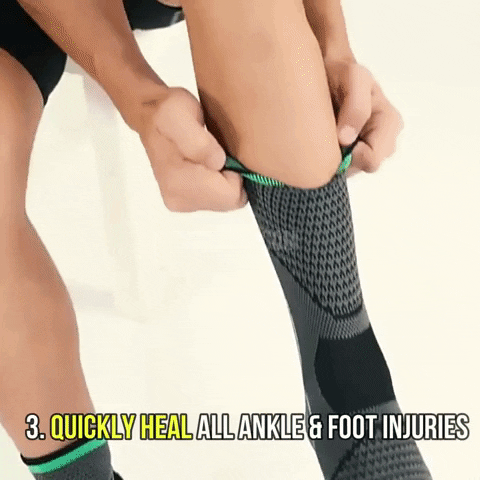 Now you can save yourself time, effort, and money with FITNESSAFE.
FITNESSAFE ankle sleeves act as a safe & effective solution and can be worn all-day with no issues. Not only does FITNESSAFE ankle sleeve deliver instant relief, but you can see lasting results after daily usage.
FEEL THE DIFFERENCE INSTANTLY
Our premium cotton-spandex blend will allow you to wear your ankle sleeve comfortably and sweat-free all day long.

Super lightweight & breathable, FITNESSAFE retains therapeutic heat to soothe aching joints without feeling hot or stuffy.

Durable to withstand daily wear and tear, hypoallergenic to avoid any irritation. With our sleek designs, you'll be able to look and feel better, anytime, anywhere.
WEAR IT ANYTIME, ANYWHERE!
Striking the perfect balance between optimal compression, support & mobility, our ankle sleeve ensures full range of motion, so you can perform any activity unrestricted.
Easy to put on & off, and can be worn comfortably under clothing.
Wear it anytime you want to access your full potential, whether to relieve pains, protect or support your ankle. This includes everyday tasks like resting, walking, running, driving, exercising, and sports.
HOW TO WEAR FITNESSAFE ANKLE SLEEVE ?
1.
Put on the ankle sleeve as shown in the illustration.
3.
Cross both straps around your ankle and the top of your foot.
4.
Bring the straps towards the back of your foot.
5.
Cross both straps around the back of your foot.
6.
Bring the straps towards the front, and stick both straps onto each other. 
SIZIN

G GUIDE
Measure the circumference above your ankle, and refer to the table below:
If in between sizes, choose the bigger size.
FITNESSAFE™️ Compression Ankle Sleeve is unisex.
MATERIALS
Material: Nylon, Spandex
   
Machine-Washable.                Hypoallerginic.  
Once your product has shipped, it usually takes 1 to 3 weeks to receive depending on your location.
You can return your product up to 14 days after receiving your order. Please make sure that the products are not damaged and in the original box.