---
---
Are you unable to perform pull-ups because of weak arms and back?
Are you unable to pull up to complete pull-ups because of your weight?
Incorrect pull-ups can cause pain in your wrist, and even if you try your best, the effect is still poor. FITNESSAFE™️ Pull Up Trainer will easily help you through the fitness difficulties. FITNESSAFE™️ pull up assistance bands is designed according to scientific mechanics to strengthen the support to a greater extent.
Whether you are going to perform rigorous beginner exercises or a fitness coach who needs to break through yourself, FITNESSAFE™️ chin ups assistance bands can provide control and help. Easily connect the strap to the pull-up rod, and then increase or eliminate resistance during pull-ups. Practice proper techniques and improve the strength of the upper body by pulling up.
BENEFITS
Multi-function Pull Up Assistance Band: Pull-up Auxiliary Band improves the strength of the arms, shoulders, and chest by assisting the pull-ups and chin pull-ups upwards. Your body develops faster, builds strength faster, and lets you become more proficient in getting up.
Ideal Fitness for Professionals & Beginners: For advanced coaches, FITNESSAFE™️ Pull Up Trainer belt will help you add extra times after muscle fatigue. For beginners, they can gradually increase the strength of your chest, arms and shoulders, so that you can complete a full pull-up under your own strength.
Burns fat and builds strong lean muscle, like few other workouts. This very simply uses your bodyweight, with the natural force of gravity, to give you all the benefits of an expensive gym in the comfort of your home. Increases endurance and improves flexibility to keep you strong and young.
Train Anywhere: Lightweight and compact, you can use it anywhere in your home, bedroom, garage, gym, park, etc., and exercise during your break. It allows you to become stronger while exercising key muscles, thus making your body slim and fit.
FEATURES
Unique design allows pull up assistance throughout entire motion to progressively get stronger-decrease assistance over time.
Durable and Safe Material: The pull-up auxiliary belt is made of rubber tube and PU material. Sturdy, tensile, comfortable, and not easily broken. Ensure the safety of training in all aspects. The release buckle design makes the pull-up lever easier to use.
Quick and easy assembly: the bands can be removed or swapped out, and it snaps easily onto any standard sized bar (You can use it on a removable door frame bar).
Wide PU / Eva Pedal: it's more comfortable than usual pedal strap. You will not feel your feet pain. FITNESSAFE™️ Pull Up Trainer will help you exercise easily and start with a lot of useful help, then gradually reduce the help. Ideal for Fitness Professionals and Beginners.
Quality Service: Your satisfaction is our goal, we pay attention to the quality of the product, if you have any questions, please contact us at any time, we will reply to you within 24 hours, and we provide 100% satisfaction money back guarantee.
WHY CHOOSE

FITNESSAFE ™️  

PULL UP TRAINER ?
FITNESSAFE pull up assistance bands can be used as a training tool for pull-ups, push-ups and other sports.
FITNESSAFE pull up bands can help you improve arm and shoulder strength, exercise abdominal muscles, latissimus dorsi muscles, exercise upper limbs, and continue to use FITNESSAFE pull up assistance bands to make your muscles more perfect.
HOW TO USE

FITNESSAFE ™️ PULL UP TRAINER ?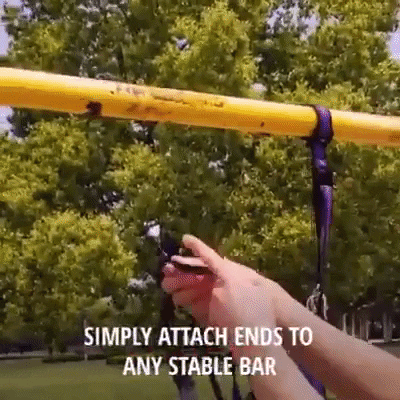 The usage of FITNESSAFE pull up assistance band is to hang both ends of the assembled pull up assistance bands at any suitable position on the horizontal bar, and then press the feet with your feet or knees and press the bottom plate with the calf.
By extending FITNESSAFE pull up assistance bands, let it provide elastic force to offset part body weight.
SPECIFICATION
Material: PP Belt + EVA + PU + Latex + Metal.
Color: Black +Red.
PU pedal size: Approx.65x14cm (LxW).
Length adjustment: Max length 143cm, Minimum length 59cm.
Fits for Diameter 17cm/6.69" Bar.
PACKAGE INCLUDED
1 x Pull Up Assist Band.
Once your product has shipped, it usually takes 1 to 3 weeks to receive depending on your location.
You can return your product up to 14 days after receiving your order. Please make sure that the products are not damaged and in the original box.